Thanks to http://www.runnerduck.com/veggie_hod.htm
This is a neat basket to put your fresh picked veggies in. Once they are in the basket just turn the hose on them to rinse them off.

Here's what you'll need:
1"X 6" cedar 3' long
1/2" wire mesh 16"X 16"
3/4" dowel
Carpenters Glue
Nails
Staples
Cut the ends 5 1/2"X 8".
Radius the two bottom corners using a 1 quart paint can as a guide.
Cut a 3/4"X 1" notch in each top corner.
Sand it smooth and remove the sharp edges by sanding.


Click on the picture for a larger image.


Cut the two sides 1"X 3/4"X 16". Cut the mesh 16"X 16". Cut the wires very close to the cross wires to eliminate sharp, pointy wires.
Bend one edge of the mesh 90 degrees 1/2" in from the edge.
Staple that 1/2" edge to the bottom of one of the sides as shown.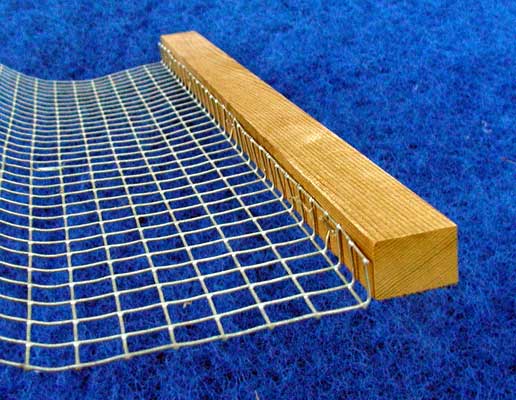 Align the side in one of the end notches and wrap the mesh around to mark your bend point for the other side. When you have this mark bend the mesh 90 degrees and staple to the other side piece.
Glue and nail one side to one end notch. Wrap and staple the mesh to the end and glue and nail the other side to the opposite notch.
Cut two pieces for the handle ends 1 1/2"X 12". Round one end.
Drill a 3/4" hole in the rounded end 3/4" down from the top.
Cut the 3/4" dowel to 17 1/2".
Glue and nail the handle ends flush to the end bottom and centered.
Put the dowel into the holes, glue and nail.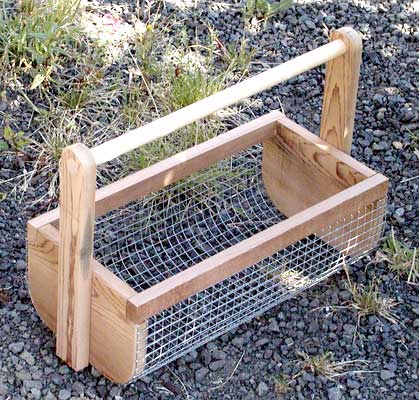 That's it, now go pick some veggies!